Greetings from the Colombian Amazon River Basin – a very fitting location for the Plant World globe to wind up, considering that the Amazon is the largest tropical rainforest in the world and is home to over 40,000 different plant species. Perhaps even more fitting is that the globe found its way into the hands of Fundación Entropika, a non-profit organization that focuses on conserving this natural habitat.
My name is Andrea, and I live in Leticia, the capital of the Amazon Department in Colombia, where Fundación Entropika is located. As a conservation organization, we deal with many threats facing the Amazon rainforest including unregulated logging, wildlife trafficking, and over-extraction of natural resources. For the purpose of the Carry the Earth exercise, I chose an activity that addresses one of the most visible problems in Leticia – the pollution of single-use plastics. 5,936 kg of polyethylene plastics are produced every week in Leticia, and due to the lack of education about proper waste disposal and an inadequate solid waste management system, many of these plastics end up on our city streets, jungles, and waterways.
In 2014, as part of a larger waste reduction education program, we began reaching out to women living in some of the neighborhoods most affected by the city's insufficient waste collection to create a fun and profitable way to re-use the most commonly seen litter item – the plastic shopping bag. Using just a crochet needle, a pair of scissors, and plastic bags saved from shopping trips and collected from the street, the women transform their trash into works of art.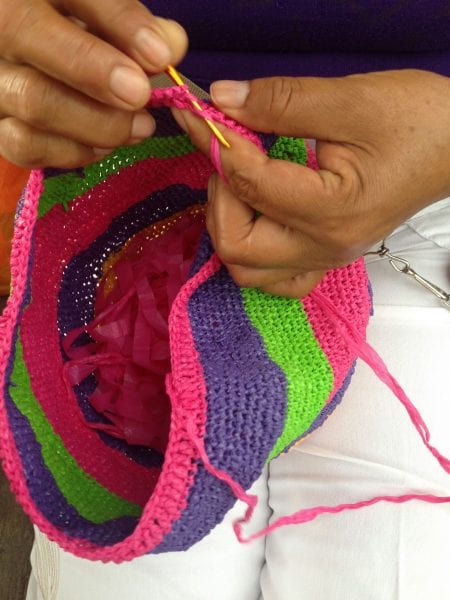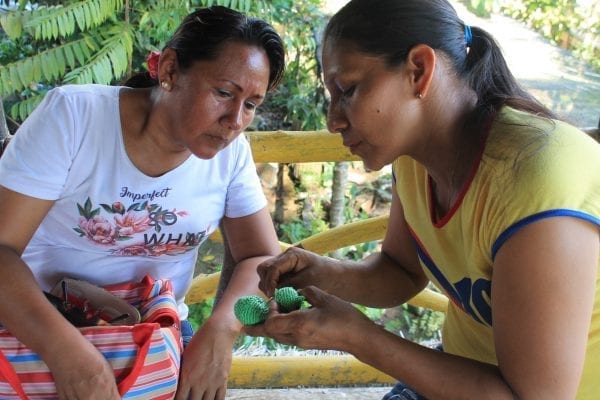 Each week I hold workshops in one of the most impoverished neighborhoods in Leticia where women gather to learn how to crochet dolls, purses, and key chains from plastic bags. We then sell the handcrafts at local stores, flea markets, festivals, and they're even featured in the gift shop of Naturama, a natural history museum in Svendborg, Denmark. The purpose of this activity is two-fold in that we are taking steps to reduce our carbon footprint as well as generate income for low-income families, especially considering that many of the women in my workshops are the sole providers of their households. Patricia, the workshop instructor and crochet expert has even been able to open her own storefront in her neighborhood using the funds she's made from her teaching salary and from selling her handcrafts.
Moving forward, women in other marginalized communities of Leticia have asked us to bring our workshop to their neighborhoods and start their own crochet circles so that our idea to find creative ways to cut down on plastic waste can spread, further benefitting both the environment and our local communities.