What Do I Do Now?
First, Congratulations!  Here are the next steps you should take:
Register for your Earth's website
Submit Your Story
Pass the Globe onto the next person
Some of the globes look similar. Which globe do I have?
Your globe number is painted or etched onto your globe near the website address.
Where is the two letter code to register?
Your two letter access code for the registration page is painted or etched onto the globe near the website address.
I don't have time to perform an action.
Any action, no matter how small, can help inspire others and keep the momentum going.  If you truly don't have time to participate, you have two options
1. Pass the globe to someone else and register your name and post something at a later date
2. Pass the globe to someone else and don't register your name
I don't know how to use the story submission form.
You can find a link to our How to Post guide at the top of the Submit Your Story page on your blog.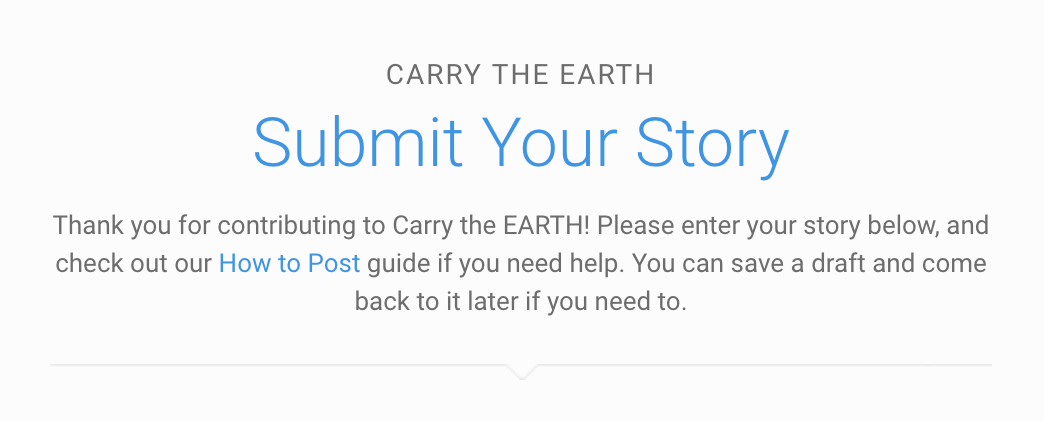 I submitted my story but don't see it on the website.
Once your submit your story, it is passed on to our volunteers to review.  We will published your story as quickly as possible.  If we have any questions for you, we will contact you by email before publishing your story.
My globe is dirty.
If you want to wash your globe, please gently clean it with water and a dab of mild dish soap.
I don't know who to pass my globe on to.
If you don't have any ideas at all, you can contact us.  We have a list of people who have requested a globe.  We will either have you send the globe to them directly or have you return the globe to us to relaunch it.
I would like to make a globe.
What are the guidelines for new globes?
You can see our basic guidelines and submission form for new globes on our Make a Globe page.
Guidelines
The design of your globe is up to you, as an artist. All globes must follow the guidelines below. If you would like to discuss your ideas before creating a globe, feel free to contact us.
After creating your earth, use the submission form below. Once your globe is approved, we will give you a number and passcode to add to the globe and we will create for you a blogsite on Carry the EARTH. All globes must have painted on them our website address and the assigned number and passcode before you launch them.
Your Earth must be:
safe to handle
non-toxic
washable
durable
biodegradable
under 10lbs (4.5kg) in weight for ease in transport
under 6in (15.25cm) in any width/diameter
Your Earth must include:
our website address
a number we assign
a two digit passcode for registration
How do I get a blog site?
When your globe has been approved, we will assign your globe a number and a two letter code that you must paint or etch onto your globe.  We will create a blogsite to match your earth, and you can be the very first person to leave a story.
Who do I send my globe to?
You do not need to send us your globe. You can submit pictures so we can approve the globe, and after your have included our website, the number, and the two letter code, you are free to launch it to whoever you like.