Involving the future generations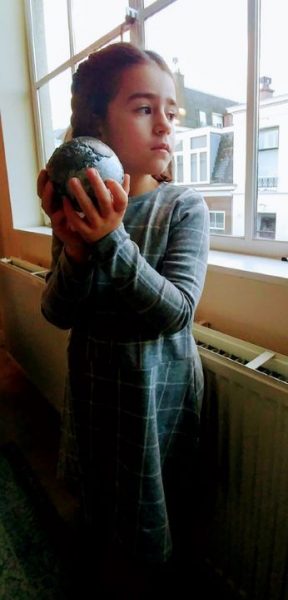 When I think about our Earth, I think about the future, and I definitely wonder how the lives of my two daughters are going to be.
How is our planet going to be when they will be older? and what about their children?
It is extremely easy to ignore the impact of our footprint since we can't see the consequences of our actions in the short term. However, it is selfish to do so in consideration of our future generations. Don't you want your children to have a better life than you do?
I believe it is important to involve/teach children in taking care of our nature. Therefore, we decided to do a small project at home within the CarryTheEarth framework. We have been honored to carry one of the Earths in our hands, and that give us the feeling of responsibility. We have used it to talk with our daughter about what we can do to help our planet. There are so many little things that we do every day without thinking that truly matter for the Earth. We decided, together with our older daughter, to do two projects, one at home and one at the school.
Project 1: CarryTheEarth Enviromentally Friendly Menu
At home, we decided to reduce our footprint, besides reducing car trips and electricity consumption, we decided not to eat meat for a week. We prepared a special menu for the whole week that we would like to share with everybody. There are simple recipes with local vegetables that you can find at the end of this post.
The reason for this is very simple. The production of meat requires more water than the production of vegetables or fruit. IME state that to produce 1kg of meat requires between 5,000 and 20,000 litres of water whereas to produce 1kg of wheat requires between 500 and 4,000 litres of water [1], that is more than 5 times less!. Most of the products we buy are shipped via maritime transportation. Indeed, international maritime transport accounts for the lion's share of global freight transport: ships carry around 80% of the volume of all world trade [2]. If the shipping industry was a country of its own, it would rank as the 6th largest greenhouse gas (GHG) emitter worldwide, right between Japan and Germany. "Food production and agriculture contribute as much to climate change as transportation," says the U.N. Secretary-General Ban Ki-Moon. [3] The simple acts of switching out beef for chicken or other types of protein in our diets, and reducing food waste would go a long way in decreasing energy consumption and preserving our environment. [4]. " Global agriculture and food production release more than 25% of all greenhouse gases (GHGs)". [5]
[1] https://www.theguardian.com/news/datablog/2013/jan/10/how-much-water-food-production-waste
[2] http://blogs.worldbank.org/transport/three-reasons-why-maritime-transport-must-act-climate-change
[3] J. D. Sutter, "Why World Leaders are Eating 'Landfill Salad' and Cucumber-Butt Pickles," CNN, 1 Oct 15.
[4] http://large.stanford.edu/courses/2015/ph240/verso1/
[5] D. Tilman and M. Clark, "Global Diets Link Environmental Sustainability and Human Health," Nature 515, 518 (2014).
Project 2: Little CarryTheEarth for kids
Together with our daughter, we brought the CarryTheEarth project to the school. She prepared a presentation about what children can do for the Earth, such as going by bike or public transport instead of using always the car, closing the faucets when brushing the teeth or showering, switching the lights off or planting a tree and why these things are important for the air quality. She did a great job! We let the children touch the Earth 23 and they were all very impressed. At last, the children got a little Earth to carry with them and think how to help our planet.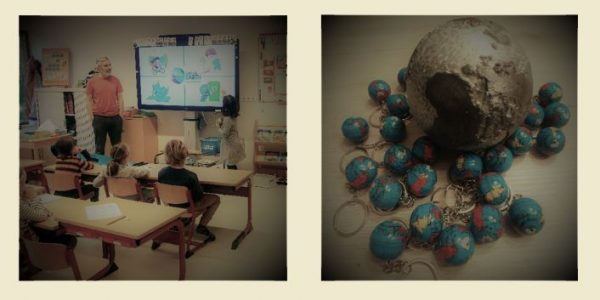 Recipes
STUFFED BREAD WITH ENDIVES AND BLUE CHEESE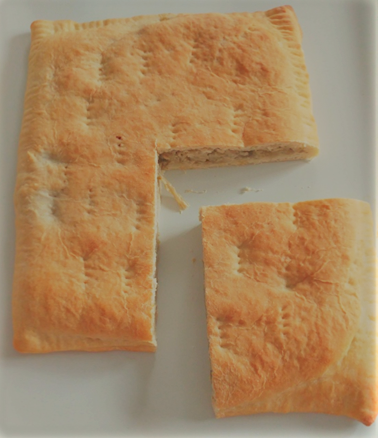 Ingredients:
Dough
– 3 grams dry yeast
– 150 grams warm water
– 250 grams flour
– 2 grams salt
Filling
– 3 endives
– 1 onion
– Blue cheese (i.e. gorzonzola)
– Ricotta
– Olive oil
– Salt
– Pepper
1.- For the dough, mix all the ingredients together and knead well. Let it rest for 2 hours in a warm place.
2.- Knead again all the dough and let it rest for another hour
3.- For the filling, chop the onion and sauté it in a pan with olive oil. When the onion is soft, add the chopped endives. Cook until the endives are also soft (~10 minutes).
4.- Add the blue cheese and stir well until it melts into the onion and endives. Add the ricotta cheese and stir well to get a homogeneous filling.
5.- Add salt and pepper to taste and let it cool down.
6.- Work half of the dough into a rectangle large. Work the other half of the dough into another rectangle of similar dimension and set aside.
7.- Pour the filling onto the first rectangle leaving some space at the edges (About 1 cm). Cover the filling with the other rectangle and close them together with the help of a fork. Make a few holes on top of the stuffed bread.
8.- Cook in a preheated oven at 200-220 degrees Celsius for 30 minutes. This time may differ from oven to oven, it is just an indication.
SPANISH TORTILLA (OMELET) WITH COURGETTE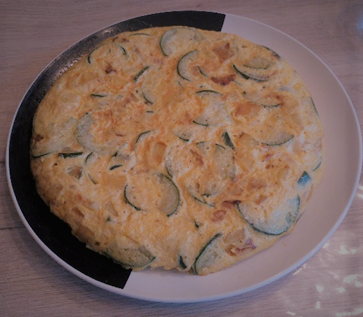 Ingredients:
– 1 courgette (zucchini)
– 1 onion
– 2 potatoes
– 4 eggs
– Olive oil
– Salt
– Pepper
– Thyme
1.- Peel and dice the potatoes. In a pan, add generously olive oil and cook the potatoes until they are brownish (but not burnt). Set aside.
2.- Chop the onion and saute it with some olive oil. When soft, add the sliced courgette (~3mm thick) and cook until it is soft. A trick to make this faster is to use a lid and cover the pan for a few minutes so the courgette gets steamed. If you do so, cook the last few minutes without the lid so all the liquid from the courgette evaporates. Set aside.
3.- Beat the eggs in a bowl, add the salt, pepper and thyme. Add the potatoes, onion and courgette to the eggs and mix well.
4.- Pour the mixture in a heated pan at medium heat with a bit of olive oil and cook for 3 minutes. Then, place a plate on top of the pan as it was a lid. Hold the pan with one and and push the plate towards the pan with the other. Flip the pan and plate together so the omelet is on the plate.
5.- Heat up the pan again and oil it slightly. Place the omelet with the uncooked side back on the pan, and cook for another 3 minutes.
6.- Place the omelet on a plate using the same trick as before and it is ready to eat.
ORZO SOUP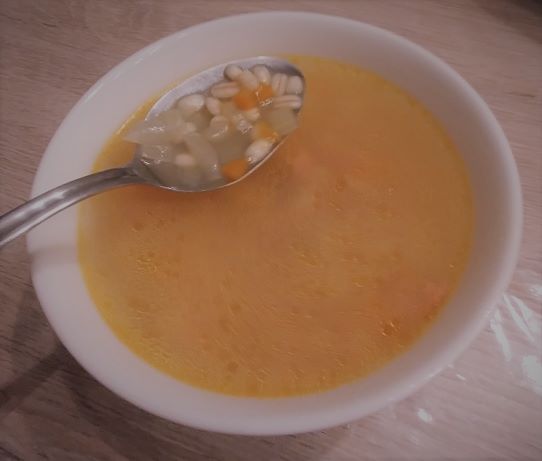 Ingredients:
– 1 onion
– 2 carrots
– 2 celery stacks
– 200 grams orzo
– 1.2 liters of water
– Salt
– Olive oil
1.- Dice the onion, carrots and celery into small pieces
2.- Saute the vegetables with the olive oil in the pot where you will cook the soup
3.- Add the water and salt it. Boil for ~20 minutes
4.- Add the orzo and cook for 10 minutes (or whatever it is recommended in the orzo packet).
5.- You can garnish it with some grated cheese or keep it fully vegan.
EGGPLANT PIZZA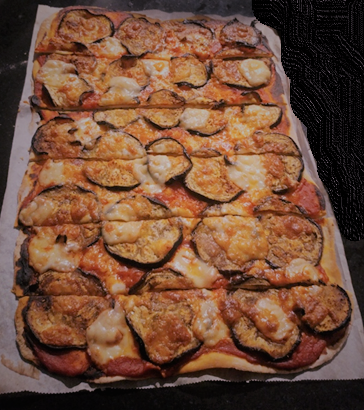 Ingredients:
Dough
– 1.5 grams dry yeast
– 75 grams warm water
– 125 grams flour
– 2 grams salt
Topping
– 1 eggplant
– Tomato sauce
– 1 mozzarella
– Olive oil
– Oregano
– Salt
1.- For the dough, mix all the ingredients together and knead well. Let it rest for 2 hours in a warm place.
2.- Slide thinly (2-3mm thick) the eggplant, salt it and grill at high heat 1 minute on each side. Set aside.
3.- Work the dough into the pizza shape that you like the most.
4.- Extend the tomato sauce with the oregano on the pizza dough, add the eggplant slices, a bit of salt, the olive oil and the mozzarella cheese.
5.- Bake in a preheated oven at 240 degrees Celsius for 20 minutes. This time may differ from oven to oven, it is just an indication.
PASTA WITH PEAS, LEMON AND MINT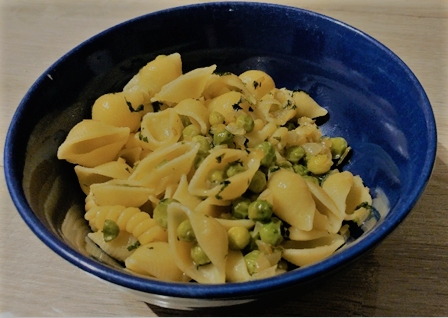 Ingredients:
– 250 grams peeled green peas
– 1 onion
– 1 lemon
– Mint
– Olive oil
– Salt
– 500 grams of pasta
– Grated parmesan cheese
1.- If the peas are fresh, peel them and cook them in boiling water for ~10 minutes. Skip this step if the peas are tinned, canned or frozen.
2.- Chop the onion and saute it in a pan with olive oil. When the onion is soft, add the lemon zest and cook for 2 minutes steering constantly. Add the green peas and cook for another 3 minutes. Salt to taste and set aside.
3.- Boil the pasta following the packet instructions but stop cooking it and drain it in a colander 1 minute shorter than what it is recommended by the pasta packet. We will finish cooling it together with the sauce.
4.- Heat up the peas with the onion and lemon zest again. When it is warm, add the mint chopped into small pieces. Add the pasta and mix well together for about 1 minute.
5.- Add some olive oil to the pasta, garnish with grated parmesan cheese and it is ready to be served.
SWEET POTATO AND COCONUT SOUP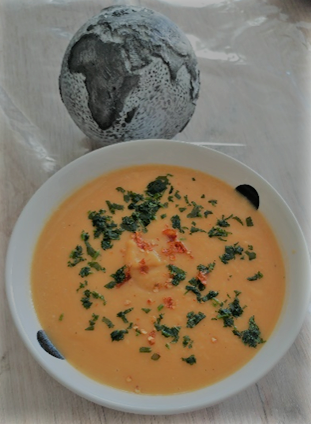 Ingredients:
– 750 grams of sweet potatoes
– 1 onion
– 2 clove of garlic
– 1 spoon of ginger
– 1 lime
– 600ml of water
– 400ml of coconut milk
– Sunflower oil
– Salt
– 1 chilli pepper
– Cilantro
1.- Chop the garlic, onion, ginger, the lime zest and chilli pepper and soute it in a pot with the sunflower oil for about 5 minutes until the onion becomes soft.
2.- Peel the sweep potatoes and diced them in a few pieces. Add them to the pot and cook for 5 minutes steering frequently.
3.- Add the water, coconut milk, lime juice and salt, and wait until it boils. When it starts boiling, lower the heat to low heat and cover the pot. Cook for 15 minutes or until the sweet potatoes are soft.
4.- Blend everything together until you obtain a cream. Garnish with some cilantro, and it is ready.
FENNEL AND ORANGE STEW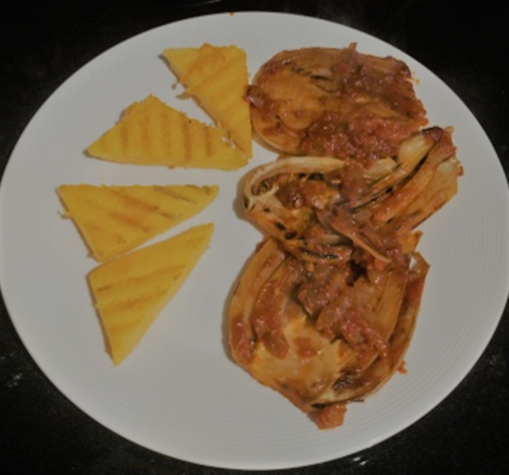 Ingredients:
– 2 fennels
– 1 onion
– 2 cloves of garlic
– 400 grams of tomatoes
– 1 glass of white wine
– 1 orange
– Olive oil
– Salt
– Pepper
– Rosemary
1.- Cut the fennel longitudinally in slices of 5mm. Heat the olive oil in a pan and cook the fennel slices about 3 minutes on each side. Set aside.
2.- Chop the onion, garlic, rosemary, alt and garlic in a pot and saute for 5 minutes. Add the white wine and boil it until its volume is reduced to half. Add the chopped tomatoes and the orange zest and cook for another 5 minutes.
3.- Place the fennel on top, bring it to boil and cook for about 30 minutes until the fennel is soft.
4.- It is served with some grilled polenta.