I had the opportunity to visit a classroom at Rancho Learning Center, an alternative school, in southern California to teach about Carry the Earth. The classroom was full of energetic and engaging 2nd-8th graders, Oh My! Their teacher assured me that a presentation about Carry the Earth would fit into the class curriculum as the students had just finished studying environmental issues and held student debates. The students were happy to share with me some of their environmental concerns and projects, which included water pollution and Global Climate Change. They built models of clean energy and carbon capture systems. A couple of students worked on systems to keep trash from storm drains going to the ocean.
Students happily got to work on a word search so I could set up the presentation. Within a minute, one students announced his first find 'smog' (Clue => 'visible air pollution'). This was a good group of students who found more words than clues, and were excited by the casual competition that presented.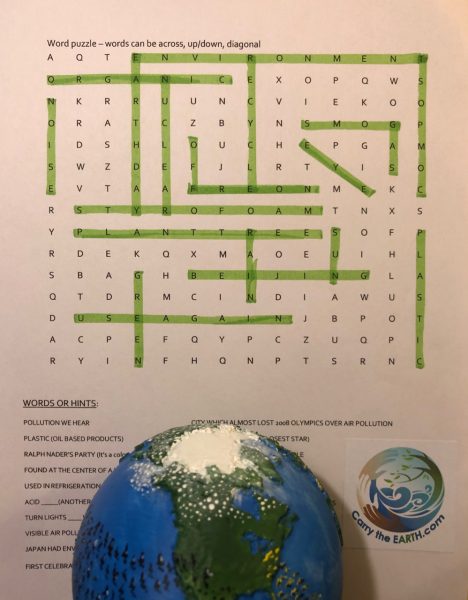 Students patiently sat through a powerpoint presentation on how Carry the Earth works and an introduction to the website. They were curious about how the globes were made and designed, and where they are now in their journey around the earth. For 'show-and-tell', they enjoyed comparing the weights of the 3D printed globes (bio-degradable material) to the glass globes. They also enjoyed peering down through the glass from the north to the south pole of globe 15 and seeing the painted penguins jumping into the ocean as the ice shelf shrinks.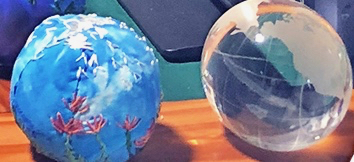 These are the kids who will be stewards of the earth in the not so distant future. In the meantime, I hope their positive, curious and engaging attitudes lead them back to Carry the Earth.